Vidéo
les NEWS de la ZanZanA, l'Emission MeTaL de RTCI
>
Vidéo
Thursday, December 19, 2019, in Vidéo
Gary Moore, un nouvel extrait de son album live est dispo en ligne
Regardez et partagez la lyric-video de " Since I Met You Baby "
0 Comments
Tweet
---
Friday, December 06, 2019, in Vidéo
Vous avez pensé souhaiter joyeux anniversaire à John Michael Osbourne ?
Qui?
John Michael Osbourne, alias Ozzy, né le 3 décembre 1948 à Aston en Grand Bretagne.
Et à 71 ans, il se prépare à sortir un nouvel album « Ordinary Man » prévu pour début 2020 via Epic Records.
Ordinary Man sera le premier album solo d'Ozzy depuis Scream en 2010. Si on ne s'explique pas l'absence de Zakk Wylde sur cet opus, on est soulagés par la présence de Duff McKagan, le bassiste de Guns N' Roses, Chad Smith, batteur de Red Hot Chili Peppers, et un certain Slash qui donne de lui même sur le morceau "Straight To Hell", une chanson anti-drogue diffusé dans la ZanZanA du mardi 03 décembre sur RTCI.
0 Comments
Tweet
---
Wednesday, December 04, 2019, in Vidéo, News
Une reprise de ABBA pour démarrer la ZanZanA du mardi 03 décembre, il fallait le faire !
Faut dire aussi que le groupe AMBERIAN DAWN cherche à s'imposer avec un nouveau genre, déroutant certes, mais à vous de faire votre avis : le ABBA Metal !
Ce titre fait partie du nouvel album du groupe intitulé "Looking For You", prévu pour le 31 janvier via Napalm Records.
Ca sera le neuvième opus de AMBERIAN DAWN, groupe de metal symphonique finlandais fondé en 2006.
AMBERIAN DAWN est composé de :
Chants: "Capri" Päivi Selo
Guitare: Emil Pohjalainen
Basse: Jukka Hoffren
Batterie: Joonas Pykälä-aho
Claviers: Tuomas Seppälä
0 Comments
Tweet
---
Saturday, November 16, 2019, in Albums, Vidéo, News
Découvrez la nouvelle vidéo de BOKASSA "Charmed & Extremely Treacherous" :
Ce titre est extrait du nouvel album "Crimson Riders" deuxième album studio du groupe de rock norvégien. L'album est sorti le 21 juin 2019 via Kings Of Stonerpunk et MVKA.
Bokassa seront en concert à Paris le 13 décembre prochain/ Backstage O Sullivan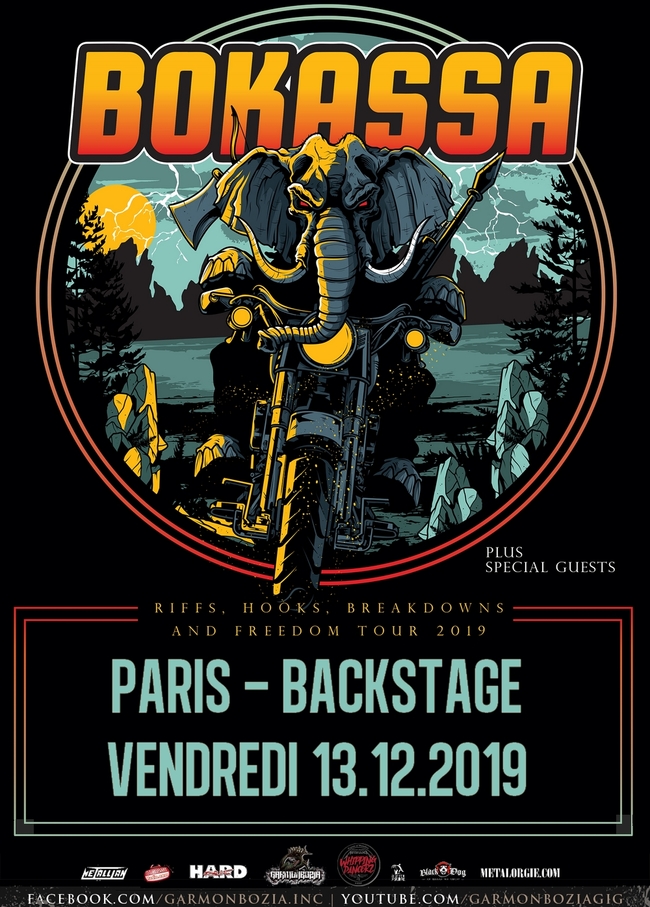 0 Comments
Tweet
---
Friday, October 09, 2015, in Albums, Vidéo, News
Up and coming modern progressive metal outfit NOVELISTS have released the official lyric video for their brand new single, 'The Lichtenberg Figure'. Surf to http://geni.us/LichtenbergFigureVideo
The song comes off the band's eagerly awaited debut album, »Souvenirs«, on November 6, 2015 via Arising Empire.
Also watch the music video for 'Voyager' at this location:
Recently the band released a guitar play through video for their current single, 'Gravity':
Check out the music video for 'Gravity' at this location:
»Souvenirs« was mixed and mastered under the masterful watch of NOVELISTS bass player Nicolas Delestrade (BETRAYING THE MARTYRS) at NDSE Recordings and will feature guest appearances by Pierre Danel (KADINJA), Lotti Holz and Plini Roessler-Holgate (PLINI). Find the cover artwork created by the band's gifted guitarist, Charly Kelevra, below.
NOVELISTS will be touring heavily in support of their upcoming debut release. Scroll down for a full list of current live shows. More dates to be announced soon.
»Souvenirs« will be released in a lavish digipak including 2 bonus tracks and will contain the following tracks:
1. Inanimate
2. Earth Grazer
3. Gravity
4. Antares
5. Ouroboros
6. Black Lights
7. Voyager
8. Muchos Touché
9. Echoes feat. Pierre Danel
10. 5:12 AM feat. Plini Roessler-Holgate & Lotti Holz
11. The Lichtenberg Figure
12. Souvenirs
+ 2 Bonus Tracks
NOVELISTS on tour
07.10. DE Wiesbaden - Schlachthof
08.10. DE Köln - MTC
09.10. LU Luxembourg - Rockbox
10.10. FR Lyon - Peniche La Marquise
11.10. DE Stuttgart - Kellerklub
12.10. DE Schweinfurt - Alter Stattbahnhof
13.10. CH Zürich - Dynamo
15.10. DE Dresden - Scheune
16.10. AT Wien - 3 Raum – Arena
17.10. DE München - Backstage Club
30.10. UK Bridgend - Hobos
31.10. UK Leeds - Milo Bar
01.11. UK London - The Black Heart
02.11. UK Sheffield - Corporation
03.11. UK Newcastle - Trillians
04.11. UK Stoke On Trent - Bunker 13
NOVELISTS is:
Matt Gelsomino - vocals
Florestan Durand - guitar
Amael Durand - drums
Charly Kelevra - guitar
Nicolas Delestrade - bass
0 Comments
Tweet
---