Vidéo
les NEWS de la ZanZanA, l'Emission MeTaL de RTCI
>
Vidéo
Saturday, November 16, 2019, in Albums, Vidéo, News
Découvrez la nouvelle vidéo de BOKASSA "Charmed & Extremely Treacherous" :
Ce titre est extrait du nouvel album "Crimson Riders" deuxième album studio du groupe de rock norvégien. L'album est sorti le 21 juin 2019 via Kings Of Stonerpunk et MVKA.
Bokassa seront en concert à Paris le 13 décembre prochain/ Backstage O Sullivan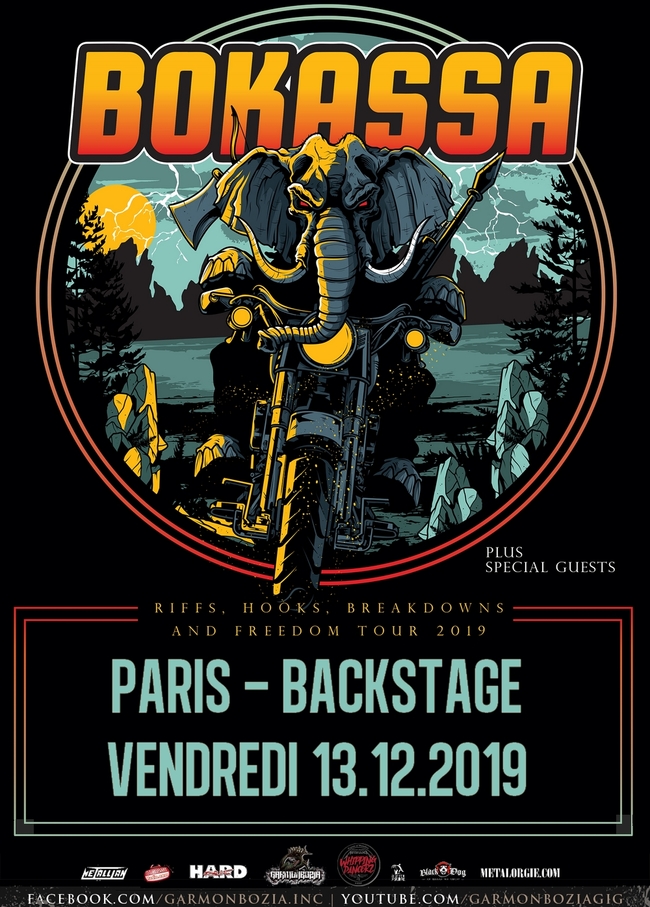 0 Comments
Tweet
---
Friday, October 09, 2015, in Albums, Vidéo, News
Up and coming modern progressive metal outfit NOVELISTS have released the official lyric video for their brand new single, 'The Lichtenberg Figure'. Surf to http://geni.us/LichtenbergFigureVideo
The song comes off the band's eagerly awaited debut album, »Souvenirs«, on November 6, 2015 via Arising Empire.
Also watch the music video for 'Voyager' at this location:
Recently the band released a guitar play through video for their current single, 'Gravity':
Check out the music video for 'Gravity' at this location:
»Souvenirs« was mixed and mastered under the masterful watch of NOVELISTS bass player Nicolas Delestrade (BETRAYING THE MARTYRS) at NDSE Recordings and will feature guest appearances by Pierre Danel (KADINJA), Lotti Holz and Plini Roessler-Holgate (PLINI). Find the cover artwork created by the band's gifted guitarist, Charly Kelevra, below.
NOVELISTS will be touring heavily in support of their upcoming debut release. Scroll down for a full list of current live shows. More dates to be announced soon.
»Souvenirs« will be released in a lavish digipak including 2 bonus tracks and will contain the following tracks:
1. Inanimate
2. Earth Grazer
3. Gravity
4. Antares
5. Ouroboros
6. Black Lights
7. Voyager
8. Muchos Touché
9. Echoes feat. Pierre Danel
10. 5:12 AM feat. Plini Roessler-Holgate & Lotti Holz
11. The Lichtenberg Figure
12. Souvenirs
+ 2 Bonus Tracks
NOVELISTS on tour
07.10. DE Wiesbaden - Schlachthof
08.10. DE Köln - MTC
09.10. LU Luxembourg - Rockbox
10.10. FR Lyon - Peniche La Marquise
11.10. DE Stuttgart - Kellerklub
12.10. DE Schweinfurt - Alter Stattbahnhof
13.10. CH Zürich - Dynamo
15.10. DE Dresden - Scheune
16.10. AT Wien - 3 Raum – Arena
17.10. DE München - Backstage Club
30.10. UK Bridgend - Hobos
31.10. UK Leeds - Milo Bar
01.11. UK London - The Black Heart
02.11. UK Sheffield - Corporation
03.11. UK Newcastle - Trillians
04.11. UK Stoke On Trent - Bunker 13
NOVELISTS is:
Matt Gelsomino - vocals
Florestan Durand - guitar
Amael Durand - drums
Charly Kelevra - guitar
Nicolas Delestrade - bass
0 Comments
Tweet
---
Saturday, January 24, 2015 - Posted by Nuclear Blast, in Albums, Vidéo
Founded 2004 in the secluded town of Arvika, Sweden, ENFORCER have established themselves as the leaders of the new generation metal bands: devoted to the roots of real metal in any conceivable way, weather its spirit, sound or authenticity. After unleashing their debut »Into The Night« (2008), a sophomore attempt »Diamonds« (2009) and their relentless and energy-driven touring onslaughts, ENFORCER found their destined path with the 2013 album »Death By Fire«. 2015 sees the release of the fourth ENFORCER record, entitled »From Beyond«.
"The intention of the song writing of »From Beyond« was to continue the path we started with »Death By Fire«. To exaggerate our own sound and to write direct and uncompromising metal songs. In opposite to most of the other new bands, we don't decide to play a certain type of music and therefore limit ourselves in the song writing. We do whatever we want and feel totally free in composing songs," commented ENFORCER vocalist & guitarist Olof Wikstrand.
Inspired by eastern European metal bands from the late 80s and early 90s, such as CREDO, MAGNIT, POKOLGEP and KAT, the song material for »From Beyond« was collected and worked on in March 2014, right after the band returned from their European headlining tour. With writing and composing being a constant progress for ENFORCER, the new songs were done quickly. Compared to its predecessor »Death By Fire«, there is no clear red line in the lyrics of »From Beyond«, but still the album has a much darker and something of an anti-existential atmosphere to it. Sound-wise the band focused on a more melancholic way of exaggeration.
"In the beginning of our carrier the lyrics were more concentrated on teenage fantasies about living wild and screwing girls and similar things. But the older you get and the more you experience of all these fantasies you had as a kid, the more you realize how earthly it is," Olof explains.
With this sophisticated creative approach, ENFORCER still emphasize the vibe and atmosphere of their music and with the more serious and melancholic path they have chosen, the lyrics evolved accordingly. Altogether, for the band this just a natural development, showing they are still inspired and developing into new realms. It is also a way of not repeating oneself album after album.
Just as on »Death By Fire«, all of the production, recording, mixing and mastering of »From Beyond« was handled by Olof and Jonas Wikstrand. This way, the band makes sure they will get exactly the type of sound and production that is needed for an ENFORCER album. Again, the Swedes spent ten days in Leon Music Studios with Rikard Löfgren for the vocal production, and after the tour with labelmates OVERKILL, the Wikstrand-brothers returned to the studio to finalize the sound.
Every sound wave you hear on »From Beyond« is 100% ENFORCER.
Line up:
Olof Wikstrand | vocals, guitar

Joseph Tholl | guitar

Tobias Lindqvist | bass

Jonas Wikstrand | drums
Tracklist:
01. Destroyer

02. Undying Evil

03. From Beyond

04. One With Fire

05. Below The Slumber

06. Hungry They Will Come

07. The Banshee

08. Farewell

09. Hell Will Follow

10. Mask Of Red Death
0 Comments
Tweet
---
Tuesday, January 20, 2015 - Posted by Cargo Records, in Albums, Vidéo
"
Profane And The Sacred are not one-hit wonder-machines, recent arrivals or take-a-chance amateurs. No, they are here for the long haul…They know how to learn. They know how to graft. And they know how to give you something special. They give a whole lot more than you expect
" - Metal As Religion
'Chapter 1 : A Long Time Coming' is the debut studio album by stoner rock band PROFANE AND THE SACRED.
Featuring gigantic doom laden riffs that unashamedly smother you in nostalgia but waste no time in lacing prog tinged instrumental breakdowns into a 9 song musical journey. Showcasing time progressions that shift gears but never let up on the momentum - allowing the rapsy, gritty vocals of singer Luke Alleeson to cover the organic soundtrack.
'A Long Time Coming' is an album specifically recorded to sound alive and not manipulated to the point of sounding 'cookie cut' - the warm acoustic notes of album opener 'Bench' gives way to down tuned riffing with 'Bleed That Stone' and 'You Know' demonstrating the armoury of this band. First single 'From The Top' showcases Profane And The Sacred in a 5 minute classic stoner rock track, with the latest single 'Words' demonstrating fast pace and groove that hits you right between the eyes during its chorus.
The subtle tones of closer 'A New Leaf' captures the melodic side, with keyboards, acoustic and bass complimenting each other in this instrumental piece, leaving the listener in a soothing, melancholy reflective mood.
Profane And The Sacred are:
Luke Alleeson - Vocals / guitars

Rick Spooner - Guitars

Rob Taylor - Bass guitar

Kieran Smith - Drums
0 Comments
Tweet
---
Saturday, January 17, 2015 - Posted by Nuclear Blast, in Albums, Vidéo, News
Hailing from the southern edge of Finland, BATTLE BEAST were founded in 2008 and soon established themselves with their trademark of pure crunching riffs, high screams, blistering solos and strong choruses. Taking the best elements of traditional heavy metal, the sextet is never afraid to add its own flavour to the recipe. After winning the 2010 Wacken Open Air "Metal Battle", and shortly after Finland's "Radio Rock Starba" competition, BATTLE BEAST soon caught the attention of Nuclear Blast. The worldwide release of the highly acclaimed debut album »Steel« in January of 2012 and a successful support tour with fellow Finns and label mates NIGHTWISH followed.
September 2012 saw the original singer, Nitte Valo, leaving the band, to be replaced by a beautiful new front beast Noora Louhimo as they embarked on a tour with SONATA ARCTICA. With the refreshed line-up and an ever-growing hunger, BATTLE BEAST continued their march of success with their eponymous sophomore release in May 2013. Following the success of »Battle Beast«, charting at an amazing #5 in their native Finland and cracking the German Top 100, the band embarked on an extended European tour alongside German metal band POWERWOLF in late 2013 and then hit the road in Sweden and Norway opening for German metal institution U.D.O.
Having spent the year playing headlining shows in their native Finland, as well as invading some of the biggest festivals in 2014 (among them the renowned Loud Park in Japan, German Metalfest and Sabaton Open Air in Falun, Sweden), plus supporting their German labelmates ACCEPT during their Finland tour in September, BATTLE BEAST now return to what they do best: to take it to the next level!
"I thirst to go further as a human being and the music on this album represents a part of the ongoing spiritual journey - that's what I tend to I call it - which is my road onward. Music-wise the songs have been expanded to a wider area as an effort to call out emotions close to those I myself had during the times of birth of these songs," commented guitarist & vocalist Anton Kabanen about the upcoming new BATTLE BEAST album.
»Unholy Savior« has been influenced by everything the band has been facing during the past months and clearly displays their increased hunger to succeed as a band. Trying to explain the topics of the third BATTLE BEAST record, one will have to go deeper as the songs lyrics were born through an emotionally violent and bloody struggle, that main composer Anton Kabanen was going through at the time: Questioning his whole existence step by step, wondering if his dream had betrayed him. »Unholy Savior« reeks of death, agony, pain, hate, confusion, fear and insecurity, but it speaks of deep gratitude, longing, consolation and love.
"The album had to be done this way - through emotional hell. Having transferred these "things" and emotions into songs I feel that I'm ready to move on. But like always, I wrote songs about the series "Berserk", as well, and the reason behind writing songs about that particular series is that I can strongly relate to that, especially to certain characters and to their way of thinking and feeling," Anton adds.
While with their previous album the young Finns did all the recording, producing and mixing themselves, »Unholy Savior« was produced by Anton Kabanen and co-produced by keyboardist Janne Björkroth and mixed by Matias Kupiainen at 5by5 Studios. Mastering was once again done by Mika Jussila at Finnvox Studios and the actual recordings took place at Sound Quest Studio and JKB Studios.
»Unholy Savior« will be released on January 09, 2015. On the very same day BATTLE BEAST will return to the European roads, along with the band that has been supporting them since day one. Swedish metal heroes SABATON did not only invite the band to play at their very own Sabaton Open Air, but also featured a cover version of BATTLE BEAST's 'Out Of Control' as a bonus track on their current charting success »Heroes«.
Prepare yourselves for the return of the beast!
Line up:
Noora Louhimo – lead vocals

Anton Kabanen – lead guitar, vocals

Juuso Soinio – rhythm guitar

Janne Björkroth – keyboards

Eero Sipilä – bass

Pyry Vikki – drums
Tracklist:
1 - Lionheart

2 - Unholy Savior

3 - I Want The World….And Everything In It

4 - Madness

5 - Sea Of Dreams

6 - Speed And Danger

7 - Touch In The Night

8 - The Black Swordsman

9 - Hero's Quest

10 - Far Far Away

11 - Angel Cry
0 Comments
Tweet
---